Music
What is the subject about? 
Leaving Certificate Music involves a series of interrelated musical activities within each of the three core areas of musical experience – performing, composing and listening. In performing, students choose from a variety of individual and/or group performing activities. In composing, students develop an understanding of musical structure and form, while the listening component provides for rich aural experiences through exposure to music of different periods, styles and genres. The Leaving Certificate Music syllabus provides continuity and progression from Junior Certificate Music. The general aims and overall shape of both is broadly similar. In providing the musical knowledge, understanding, practical competencies and attitudes appropriate to their age, abilities and interests, the syllabus caters for the varying needs of all students including those who wish to pursue further studies in music. 
How is the subject assessed? 
The Leaving Certificate Music syllabus contains the following three essential activities: 
I. Performing – (including music technology) – examined in April of 6th year 
II. Composing – Examined in June of 6th year and comprises of a 90 minute exam paper of melody writing and harmony 
III. Listening – Examined in June of 6th year and comprises of a 90 minute exam paper of Four set works, Irish music and general listening skills. 
This structure of the three essential activities is flexible. Where students have particular talents, the structure allows them to specialise by undertaking up to 50% of their work in the musical activity that best suits their talent.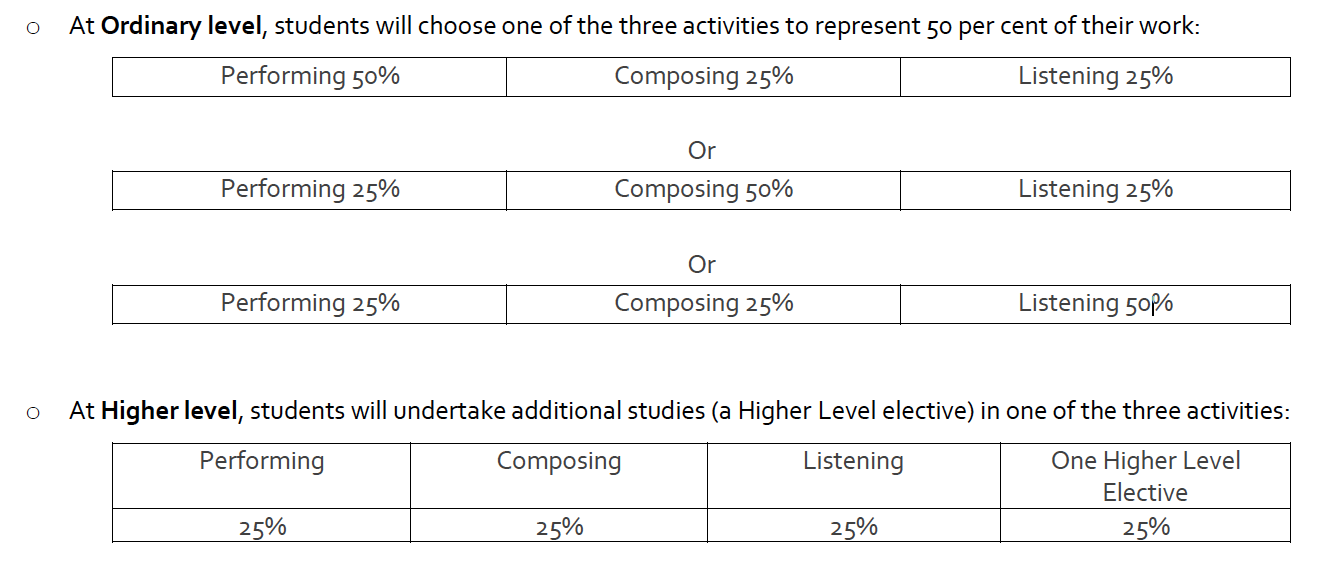 This will allow Ordinary Level and Higher Level students to gain up to 50 per cent of the total marks in the musical activity that best suits their talent. 
Higher Level Electives: 
Listening Elective: The candidate must work on a music project over the course of 5th and 6th year. They must submit some work to the State Examinations Commission and sit an extra written paper in June. 
Composition Elective: The candidate must undertake a large-scale composition to be submitted to the Examinations Commission in their final year. 
Performance Elective: This involves a more substantial performance during the examination period in April of 6th year. 
Almost all students take the 50% performance option using a combination of group or solo performance and music technology. 
Additional Comments 
– It is recommended that a student taking Leaving Certificate Music has a general interest in music and a good ability to perform on an instrument or sing. 
– Students should also show a willingness to examine various styles of music such as classical, contemporary, rock/pop and Irish music. 
– It is not compulsory to have studied Junior Certificate Music although this would be desirable. It is important however, that the student has some knowledge of music theory. This may be through previous private instrumental tuition or graded theory exams. 
– Students who have no background in music theory or Junior Certificate Music would be required to complete a significant amount of independent work in order to succeed at Leaving Certificate level. 
Career Opportunities 
– Musician/performer 
– Secondary school teacher 
– Private Music teacher/tutor 
– Composer 
– Conductor 
– Music Therapist 
– Sound Engineer 
– Sound Technician (broadcasting, film, video) 
– Programme researcher 
– Arts administrator 
– Community musician/arts worker